Biography
Dub Warning
Dub War were formed in the town of Newport, South Wales in 1993, They were soon to find a record deal with a small local hardcore label (Namely Words of Warning). A Label that also brought us tracks from the likes of Gunshot & King Prawn, to name but two.
After a few vinyl releases including Respected & a 12" split with Cowboy Killers, Dub War released a Mini-LP titled Dub Warning, closely followed by Words of Dubwarning (essentially the same thing - see discography). Their extra-ordinary blend of ragga/rap/punk & metal soon earned them a reputation across the UK.
Pain in Dub
One of Dub War's tapes eventually found it's way into the hands of Earache Records founder Digby Pearson. By 1995 Dub War were signed with Earache. With the backing of a large record label and international distribution they began work on they first full length album.
The album in question was titled Pain. Dub War soon began to gain a reputation for a unique live performance, mainly due to Benji's madman adlib. Several singles were released from Pain, including Gorrit & the now legendary Strike it.
Wrong Side ...
1996 saw a drastic change for Dub War as they began to experiment more and move into different directions. the release of the singles Enemy Maker and Cry Dignity had already shocked a lot of fans as they were far from the songs on Pain.
By the time of their second Album Wrong Side of Beautiful. Fans had a fair idea of what Wrong Side... would sound like. the new LP showed a wide range of influences from Bob Marley to The Clash, while still keeping their original hard edge. '96 also the release of the Soundclash EP. A release which showed the strong influence of dance music.
1997 was a year touring for Dub War as they scaled the globe. visiting the USA, Australia and Europe. The boys went down a storm at several large festivals. Glastonbury and Dynamo being worthy of a mention. Million Dollar Love was released as a single in march of '97 & Dreams & Illusions in november.
1998 saw the launch of Benji's side project Mass Mental and Benji's collaboration with Soulfly. Step Ta Dis (an album of remixes) was released in december.
You think it's over now?
Alas by 1999 Dub War saw it's end, as the band soon split. Some time later in the year Benji starts a new project with Dan. Jeff & Ginge eventually join the band which becomes Skindred as Richie gets involved in The Jones.
Earache records made it impossible for Dub War to continue. They would not let us record and just wouldn't give us money to live on, this made us fight internally till we had no option other than to go our separate ways or kill someone or each other.

- Benji Webbe
Da dred ah come ...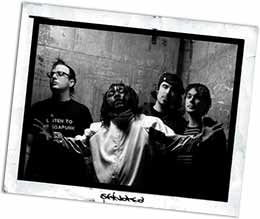 Dub War may be dead, but Skindred goes from strength to strength. Their album Babylon is presently carving it's way through the USA & beyond.
Jeff and Ginge left the band in november 2002 (Check out their statement) .
Now sporting Arya on Drums & Mikey on Guitar. Skindred are currently gearing up for the release of their 2nd album "Roots Rock Riot" in October. Head over to skindred.com for the latest news. Support Skindred & go check 'em out live.
Raw Bud Runnin Riot
And what of Jeff, Ginge & Richie you ask?
Things are hotting up in the post dub camp right now as the boys have a project together on Bristol based label Runnin Riot called Raw Bud. The single Rise Up (ft. Sweet Irie) is now available on very limited 7 inch. This "anti-mix" of the recent Roni Size track needless to say shows the boys still have it.
In an age where rock is mixed for dance floor appeal, RAW BUD's mission was simple to take the remix to its opposite extreme, the anti-mix, the ultimate sound clash.

- Runnin Riot
Talk of an album featuring an array of nu-urban vocalists titled "Urban Metal" his been talked about, but as of yet has not been completed. Get your arse over to the Runnin Riot web site & check out the latest news on Raw Bud.